Serving size 1 gram
Serving per container 60




Total Carbohydrate
< 1 g
< 1%*
Dietary fiber
0.8 g
3%*
HLC LAB4 Consortium8 billion viable cells
Lactobacillus acidophilus (CUL 60)
Lactobacillus acidophilus (CUL 21)
B. bifidum (CUL 20)
B. animalis subsp. lactis (CUL 34)
﹢
Fructooligosaccharides (FOS)
600 mg
﹢
* Daily Values (DV) are based on a 2,000 calorie diet
﹢Daily Value not established




60 g





High Potency Probiotics, Freeze dried apricot powder





One gram (third of a teaspoon), can be added to cold water or fruit juice.
Taken daily with a meal or as professionally directed.


Keep out of reach of children.




May contain up to 12 billion viable cells per gram if kept refrigerated. Once removed from refrigerator, product will maintain label potency for 6 months at room temperature.





UK



For more details, please call our service hotline (852) 2763 1488.




High Potency Probiotics Powder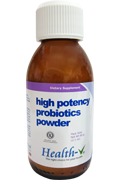 Strengthen digestive system, boost immunity


Probiotics are friendly bacteria living inside our large bowel, which strongly influence our overall health from intestinal function to skin condition.




Why choosing

High Potency Probiotics?


Ultra high potency to survive through stomach acidity


High Potency Probiotics contain 8 billion of viable cells. FOS is added to promote the probiotics activity. The superior formula allows

Probiotics strongly attach to epithelial cells and are able to survive through gastric acid to colonize the intestine.


Clinclly-proven strains for greatest effectiveness


High Potency Probiotics contain the most beneficial types of bacteria: Lactobacilli and Bifidobacteria. They are proven to be safe and effective for human consumption in hospital clinical trials in the UK.
LAB4 Strains: L.acidophilus (CUL 60 & CUL 21), B. bifidum (CUL 20), B. animalis subsp. lactis (CUL 34)


Quality assurance


Probiotics is manufactured under ISO9001:2000 certification and GMP standards and are independently tested to guarantee potency.


This product does not contain the following ingredients

| | | | | | | |
| --- | --- | --- | --- | --- | --- | --- |
| Egg | Dairy | Gluten | Peanut & Soybean | Crustacea | Tree Nuts | Fish |
Suitable for any age or vegetarian

Customers choosing the above product also have interest in the following product