Serving size 2 gummies
Serving per container 110


2 to 4 Yrs.
4 Yrs.
Calories15
Total Carbohydrate
4 g
*
1%+
Sugar
3 g
*
*
Vitamin A
2600
IU
104%
52%
Vitamin C
20 mg
50%
33%
Vitamin D
400
IU
100%
100%
Vitamin E
16.5
IU
165%
55%
Vitamin B-6
1.04 mg
149%
52%
Folic Acid
260 mcg
130%
65%
Vitamin B-12
5.1 mcg
170%
85%
Biotin
60 mcg
40%
20%
Pantothenic acid
5.2 mg
104%
52%
Iodine
42 mcg
60%
28%
Zinc
2.7 mg
34%
18%
Choline
40 mcg
*
*
Inositol
40 mcg
*
*
﹢Percent Daily Values based on a 2,000 calories diet
* Daily Value not established




220 gummies





Glucose syrup, sucrose, gelatine, dl-alpha-tocopheryl acetate, natural flavors, ascorbic acid, citric acid, zinc gluconate, lactic acid, retinyl palmitate, natural colors (annatto extract, black carrot juice extract, tumeric), biotin, calciumd-pantothenate, cholecalciferol, folic acid, pyridoxine HCL, potassium iodide, cyanocobalamin, choline bitartrate, fractionated coconut oil, beeswax and insitol





As a dietary supplement, parents may give each child up to two Gummy Vites per day. Instruct child to chew each gummy carefully and thoroughly.





Store at room temperature. Do not expose to excessive heat or moisture.





USA



For more details, please call our service hotline (852) 2763 1488.
Gummy Vites ( Multi-Vitamins & Mineral Formula )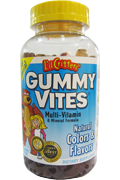 The Fun & Tasty Way to Get Your Vitamins


Vitamins and minerals play an important role in maintaining healthy growth. Vitamins are vital in good vision, strong bone and teeth, healthy skin and hair as well as well-developed immunity.






Why choosing L'il Critters Vitamin Gummy Bears?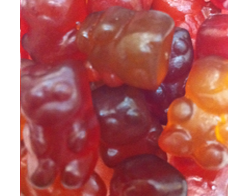 2 Gummies = Vitamins that Your Kids Need in a Day


Contain abundant Vitamin A, B, C, D, E and folic acid. Two gummies give your kid sufficient vitamins for a day!


From now on, Taking Vitamins doesn't have to be a Chore


Our gummy supplement is the No. 1 choice of parents. The gummies are awarded The ChefsBest Award for Best Taste by independent professional chefs in 2010. The naturally tasty and fun-shaped supplements are appealing to every kid! From now on, your kids can take vitamins happily to have the essential vitamins they need to grow strong and healthy!


Natural Fruity Flavours, with No Artificial Colors, Flavors or Preservatives


The tasty gummies feature 7 great all natural flavors: cherry, strawberry, passion fruit, orange, lemon, and white grape. The product is formulated with no artificial colors, flavors or preservatives; and it is free of most allergens including gluten, dairy, egg, peanuts, nuts or soy, suitable for those have allergies or hypersensitivities.


This product does not contain the following ingredients

| | | | | | | |
| --- | --- | --- | --- | --- | --- | --- |
| Egg | Dairy | Gluten | Peanut & Soybean | Crustacea | Tree Nuts | Fish |

Customers choosing the above product also have interest in the following product