Serving Size 15 tablets
Serving Per Container 20




Calories
11
0%*
Total Carbohydrate
0.33 g
0%*
Protein
1.8 g
4%
Vitamin A (Beta-carotene)
750 IU
15%
Vitamin K
45 μg
56%
Vitamin B12
5.8 μg
96%
Biotin
7.5 μg
2.5%
Iron
1.89 mg
10.5%
Phosphorous
51 mg
5%
Magnesium
9 mg
2%
Potassium
33 mg
1%
Chlorella vulgaris
3 mg
﹢
* Daily Values (DV) are based on a 2,000 calorie diet.
﹢Daily Value not established.




300 tablets





Ingredient: 100% Natutal Chlorella





Adult: As a dietary supplement, take 15 tablets daily all at once at a mealtime or as professionally directed.
Children under 15 years of age: Take the numbers of tablets daily corresponding to their age in years.





Every pack of

Pure Chlorella + CVE™ are sealed with foil bag for maximum quality, please keep the fastner closed and store the product in a cool dry place.





Japan



For more details, please call our service hotline (852) 2763 1488.



Pure Chlorella+CVE™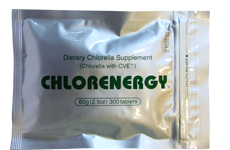 Balance Immunity,Improve Digestive System


Chlorella is a single-celled green algae containing the highest concentration of Chlorophyll among all plants. Chlorella is known as a Natural Cleanser for its cleansing power to our blood, liver and bowel. The UK daily, Telegraph, has credited Chlorella as 'the Superfood that helps fight diseases'




Why choosing

Pure Chlorella+CVE™


Highest Digestibility, with Loads of Precious CVE™


contains an abundance of Chlorella growth factor, the most important substance found in Chlorella that aids in boosting our immunity. The formula of 'CK-strains + CVE: Vulgaris', is honored by JHFA under the auspices of Japan Health & Welfare Ministry as Japan's No.1 Chlorella in digestibility rate.


Strongest Evidence on Effectiveness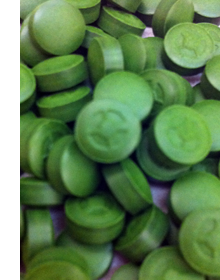 adopts CK-strains of Chlorella vulgaris, the species found to be the most beneficial to human body. Endorsed by more than 500 scientific researches, our chlorella is proven to have superior effectiveness and safety.


A Powerful & Multi-functional Green Food


Each

green tablet contains 25%of CVE and 5x more chlorophyll than spirulina. Chlorella is packed with 56-60% phyto-protein with 18 amino acids, including 8 essential amino acids. Besides, it carries 16 types of vitamins and 14 types of minerals. It also has the most absorbable form of Vit B-12; and is a good source of dietary fiber and carotenoids.


100% Pure & Natural Chlorella


is made with pure and natural chlorella cultured in Japan, with no binders, excipents and impurities of any kind.


Finest & Assured Quality


is produced in a GMP certified factory in Japan from its initial culture stage to the final product packing. The producer has been awarded by Japan Health & Welfare Ministry and JapanHealth & Nutrition Association in 1996 and 2005, for its effort and remarkable achievement in developing health food supplements.


This product does not contain the following ingredients

| | | | | | | |
| --- | --- | --- | --- | --- | --- | --- |
| Egg | Dairy | Gluten | Peanut & Soybean | Crustacea | Tree Nuts | Fish |
Suitable for any age or vegetarian