Serving Size 1 teaspoon (5ml)
Servings per container 40




Calories
Calories from fat
45
45
Total Fat
5 g
8%*
Saturated fat
0.5 g
3%*
Cholesterol
45 mg
15%*
Docosahexaenoic acid (DHA)
750 mg
﹢
Elcosapentaenoic acid (EPA)
1050 mg
﹢
Total omega-3
(DHA, EPA & total omega-3 provided as pure fish oil)
2250 mg
﹢
Natural mixed tocopherols
25 mg
﹢
* Daily Values (DV) are based on a 2,000 calorie diet
﹢Daily Value not established.




200 ml





Finest fish oil, Essential oil of orange





1-4 teaspoon(5-20ml)
Taken with daily meal or as professionally directed.





Vaccum sealed for maximum quality. Refrigerate after opening.





UK



For more details, please call our service hotline (852) 2763 1488.




Finest Pure Fish Oil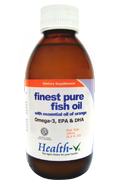 Boost Immunity, Facilitate Brain Development


Fish oil is profoundly beneficial to our health because it contains two fatty acids EPA and DHA that occur naturally in fish only. These two fatty acids are essential and have to be taken in every day. It facilitates brain development and functions, maintain mental health, cognitive function and mood, enhance joint mobility and body functions and aids in anti-aging and keeps heart healthy.





Why choosing

Finest Pure Fish Oil?


Finest Quality, High Concentration


provides the highest concentration of omega-3 fatty acids, EPA and DHA. It provides high concentration of omega-3 fatty acids, EPA and DHA. Only one dosage can provide a rich supply of fatty acids, which is much higher than other brands on the market. Each 5 ml dose contains:


| | |
| --- | --- |
| Fatty acid | 5 ml |
| Omega-3 | 2250 mg |
| EPA | 1050 mg |
| DHA | 750 mg |

Virtually No Fish Oil Odor or Taste ; Flavoured with Essential Oil of Orange


Despite its high EPA/DHA concentration,

Finest Pure Fish Oil


has virtually no fish oil odor or taste, helping individuals who have difficulties of intaking fish. The orange taste provides a pleasant way of taking physiologically meaningful levels of EPA and DHA. It is the best choice for children.


No Detectable Levels of Mercury and Other Heavy Metals


Finest Pure Fish Oil is independently tested to ensure there is no presence of mercury and other heavy metals.


Natural & Pure with Quality Assured


Finest Pure Fish Oil is manufactured under ISO9001:2000 certification and GMP standards and is independently tested to guarantee potency. Produced from the purest ingredients, manufactured in an oxygen-free environment and then packed under vacuum so that it reaches you in the freshest condition.


This product does not contain the following ingredients

| | | | | | | |
| --- | --- | --- | --- | --- | --- | --- |
| Egg | Dairy | Gluten | Peanut & Soybean | Crustacea | Tree Nuts | Fish* |

*For those who are allergic to fish is allergic to its protein. Our Health-V Finest Pure Fish Oil has undergone several filtration and purification. Hence it does not contain any fish protein theoretically. As you have a documented fish allergy, however, it's wise to be extra cautious or consult your practitioner. Manufacturer of Health-V Finest Pure Fish Oil has been awarded with GMP and ISO9000:1. Thus people who are allergic to fish allergy can still consume Health-V Finest Pure Fish Oil.

Customers choosing this product also have interest in the following product